Our Story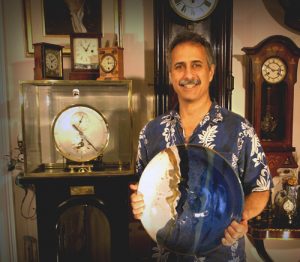 David's first business license was issued in 1978, in the name of Dave's Clock Repair. His shop, which he and Jane opened in 1982, is still active in Manchester and St. Louis, MO. The first name was International Clock and Watch Repair which was later changed to American & International Clock and Watch Repair.
His insistence to do the job correctly led him to bypass the sloppy ways of lesser repairmen and only implement the best for his customers. Joining the National Association of Clock and Watch Collectors Inc, in Columbia, PA (NAWCC) in 1978 he enjoyed an old-world exposure to clocks, watches, equipment, books, workshops, and very importantly a social structure that would last a lifetime. With mentors of impeccable values in repairs and a lifetime of artistic talents and skills, he has benefited from understanding that related specialists would consistently maintain the highest quality of clock restoration for all of his customers' needs. The NAWCC has been a lifelong benefit to our customers as well as to us. Providing through us a network of Professionals serving Professionals in specialty services to help us make those very difficult and rare restorations an achievable goal in most cases. Contact us to learn more!
DAVID WARNER
David Warner has been in the restoration business since virtually his first exposure to antique clocks. A Saint Louis-born native, David and his wife to be, Jane Brinkmeyer, were living in San Francisco, CA in 1977. He was working as a technician/diagnostician at The Automobile Association of America Diagnostic Clinic. It was Christmas of that year when he and Jane insisted they buy a clock for her Dad. Although not very important to anyone else, a mahogany cased Japanese school house clock, a Stationmaster – 31 day time and strike clock became the gift.
David had channeled his youthful years learning to become a good auto mechanic. In those days we rebuilt most everything, it wasn't a matter of just replacing units. We had to be able to diagnose and repair or rebuild most of which we were confronted. His auto service career culminated at Automobile Association of America (AAA) in San Fransisco, CA as a Diagnostician Tech. He has always been intrigued with mechanical things; how they worked, how they were constructed, and moreover how to diagnose, dismantle, and successfully repair whatever he was confronted with.
Always working while not in school since his 13th birthday he was employed in numerous varied fields. Auto-mechanic, volunteered as a maintenance worker for a youth counseling center, assistant theatre manager at 15. Later worked in the Local 1 Electricians Union as a communications technician for a local electrical contractor, which was preceded by a training school. He was a police dispatcher in Crestwood, MO and was trained and certified by the Missouri Highway Patrol for the same. He was self-taught as a plumber and finish carpenter with the skills to carve and finish in old-school manner. In concert with all of this, his artistic talents and skills were honed while in college specializing in sculptural ceramics and wood.
David's clock education career began with an apprenticeship in 1978 that lasted almost three years all the same while working in the trade. In 1983 he attended and received a certificate from The Kansas City School of Watch and Clock Making – a satellite school of Gem City College.
A small however coincidental story. Handed down through generations from his great grandfather was an antique Swiss small enameled on sterling travel clock with alarm. As a young boy the clock appealed to David and he would dismantle and reassemble this fine non-working timepiece. Upon David's fathers' 60th birthday, he and a trusted watchmaker, now deceased Bill Atkins, brought the little clock back to life good as new which was a great surprise to his Dad. Later the little clock was given to David from his father as a birthday present.
He joined the local Chapter of the NAWCC in 1979 and in 1989 was elected as an officer. He has been President from 1990 to 2012 and President of The Greater St. Louis Regional Inc. which was created under his auspices and direction. As a result of his extreme interest in high-quality antique German clocks, firstly of course Winterhalder and Hofmeier, he published a book chronicling "The Bawo and Dotter Company". This was accomplished under the auspices of The Greater St. Louis Regional Inc. and St. Louis Chapter 14. Until this publication many commonly found and high quality clocks with trade names such as, "Elite", "Peerless", and "Monastery" were thought to be independent manufacturers. His book proved they to be various grade and trade names of the same manufacturer. David was voted in as a National Director of the NAWCC to serve from 1995-1999. He was appointed as a Fellow of the NAWCC just prior to his successful National Director Campaign. David is a listed consultant in many of the clock guides by Arlington Books published by his good friend, Tran Dui Ly.
David also makes himself available to communities and civic groups for lectures and demonstrations on time and clocks. David has addressed various Historical Societies, Daughters of the American Revolution, school groups, private concerns, as well as being a regular volunteer for the St. Louis Channel of Nine Network as an appraiser for their yearly fundraiser antique roadshow.
JANE WARNER
Jane comes from a heavy artistic background. Her grandmother, Mable Meeker Edsall, a student of William Merritt Chase, taught Painting at The John Burroughs School for thirty years. Her mother also painted and along with her grandmother was a member of The St. Louis Artist Guild and The Academy of Professional Artists. Jane was educated as a Theatrical Lighting and Design Major and art, making Deans lists at most of the universities and colleges she attended. Her artistic skills play heavily when restoring those precious heirlooms for our customers. It was regular and routine for many of Manchester and St. Louis, MO artist greats to be at her home on weekends such as Siegfried Reinhardt, Gustav Goetsch, The Carpenters, and all of the members from time to time of the old Saint Louis Artist Guild.